I found out this week that one of my all time heroes,
Mr. Ted Leo
, is going through some hard times right now. Earlier this week,
he canceled a tour date in Cleveland
so he could be back home in New England with his loved ones. Apparently someone very close to him is undergoing chemotherapy and the sessions just began this week, hence the cancellation.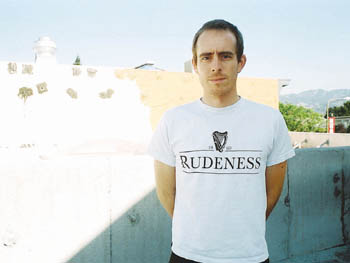 Trooper that he is,
Ted was back on the road again right after, playing Lollapalooza yesterday in Chicago
. I don't think I'd be able to do that, but that's why the dude is my hero, I suppose.
I've been listening to Ted, in some form or another, since I was in high school. He's played as a solo act, but also in a ton of bands like
Chisel
(one of my favorites ever), The Sin Eaters, The Secret Stars, The Spinanes, The Pharmacists (before that name was adapted by his backing band), Citizen's Arrest, Animal Crackers -
the guy's been busy all his life
!
opening for Death Cab For Cutie at Madison Square Garden
, I was flabbergasted. Ted? Didn't I see him play at
McCormick's bar in New Brunswick
when I was in college, and then buy him a drink? Didn't I see him play at a church once in my hometown and then talk to him for about 15 minutes about one of the opening bands? Yes, that's the same guy. Incredible.
Although I've had admittedly limited interactions with the guy, what I have observed speaks volumes:
Ted always checks out the opening bands at his shows - how many musicians do you know who do that? It's perhaps a small thing, but a big deal, and I've always respected that.
I once watched him wait in line to re-enter his own show, because he wasn't going to cut off any of the fans who were waiting in line. Again, a small thing, but the kind of small thing that makes a difference.
He'll talk to anyone, he's completely unpretentious and approachable. That's a nice feature in a hero. I've spoken to him several times, sometimes at great length, and he's just a cool, regular dude. And very funny! Case in point - look at this photo!
He's constantly working to keep his fanbase in the know about important social and political issues, but never in a preachy way. I once read he was considering being a teacher if/when he retired from music, and that makes perfect sense. His students will probably have no idea how cool their English professor is, which makes me chuckle.
His music is a constant source of inspiration, positivity and energy. He is the yin to Elliott Smith's yang (my other musical hero). I challenge anyone who is having a bad day to listen to the Chisel song "It's Alright, You're O.K." and still have a frown by the end. It can't be done!
Here's a photo someone once took of Ted and put up on
a Ted fan site called Timorous Me
. If I recall correctly, the girl in the picture's boyfriend was stationed in Iraq, and a big Ted fan. So he obliged to this great photo:
I recently read this on another blog, talking about Ted, and I think it sums him up perfectly:
"Ted Leo is a great guy. I don't really even know him that well, and I consider him a good friend. We only met for the first time this past May."
I couldn't agree more. And having seen too many people go through cancer and chemo in my own life, I know how difficult it can be. In the off chance that Ted or someone close to him ever reads this post, I just want to extend my best wishes to his family and that this difficult time soon comes to and end, with everyone happy, healthy and strong.
After all the good stuff Ted's music has done for me over the years, I'd just like to show some support for him now. Hearing some good, funny, positive news goes a long way when you're in a situation like that.
So I guess if you have a particularly cool Ted story you'd like to share, or if you'd like to send him some good vibes, please leave a comment on this post and I will send it on to him.
Thanks all!